Surly has some seriously great deals going on a few gravel bikes right now.  Whether you're looking to tour the back-country, hit some hidden park trails, or lug your laptop and avacado toast to the office, we've got you covered.  Yes we're serious, and please do call us Surly. 
It's a day tripper and a weekender. It's a 'rough road' road bike. It's a cyclocross bike with no pretense about racing. It's a utilitarian townie. It's a light-duty touring bike. It's an all-weather commuter. And when you get tired of one set up, you can swap parts around and turn it into something else.
Ogre is the Monster Truck of Gravel Bikes
The Ogre can get you to your job during the week, then way out of town on the weekend. It's not sluggish on pavement or gravel and can also hold its own on singletrack. Small and Medium sizes are on closeout in the Rover Brown color.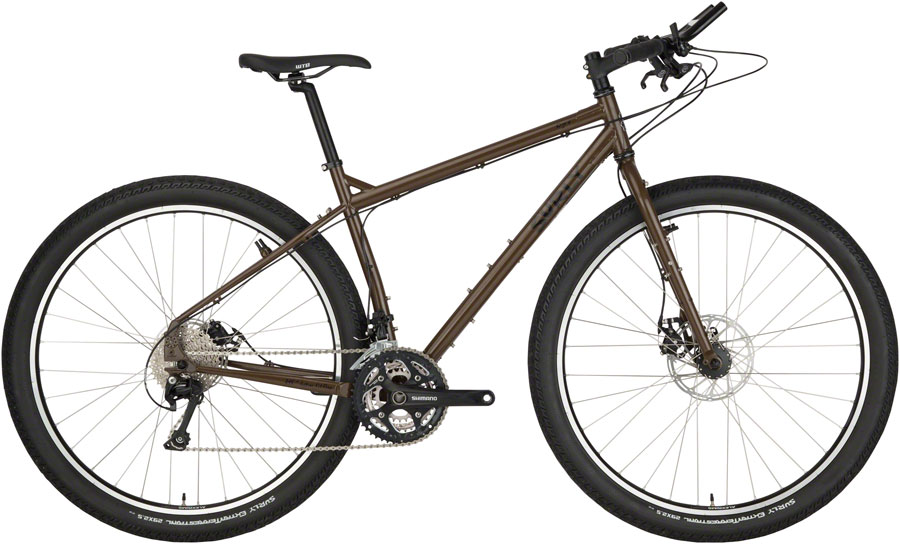 Front-load your cargo on a Pack Rat
The Pack Rat is designed around porteur-style racks and front-loading optimization, with a front cargo-specific design to eliminate steering issues. The fork features internal routing for generator hubs and rear frame dropouts to accommodate multiple drivetrain configurations. It's an ideal choice for loaded commutes and bike trips with a lighter load, but also rides great when unloaded.
Take any route on a Troll
Use the Troll as a mountain bike, cruiser, commuter or touring rig. Make it your go-to utility tractor. Try out different tires and handlebars. Add some racks, build it with gears, or strip it down to a singlespeed drivetrain. Take it camping, ride it to the grocery store or session on your favorite single-track. Build it up, ride it for a while, then reinvent it.